Fresh water beaches project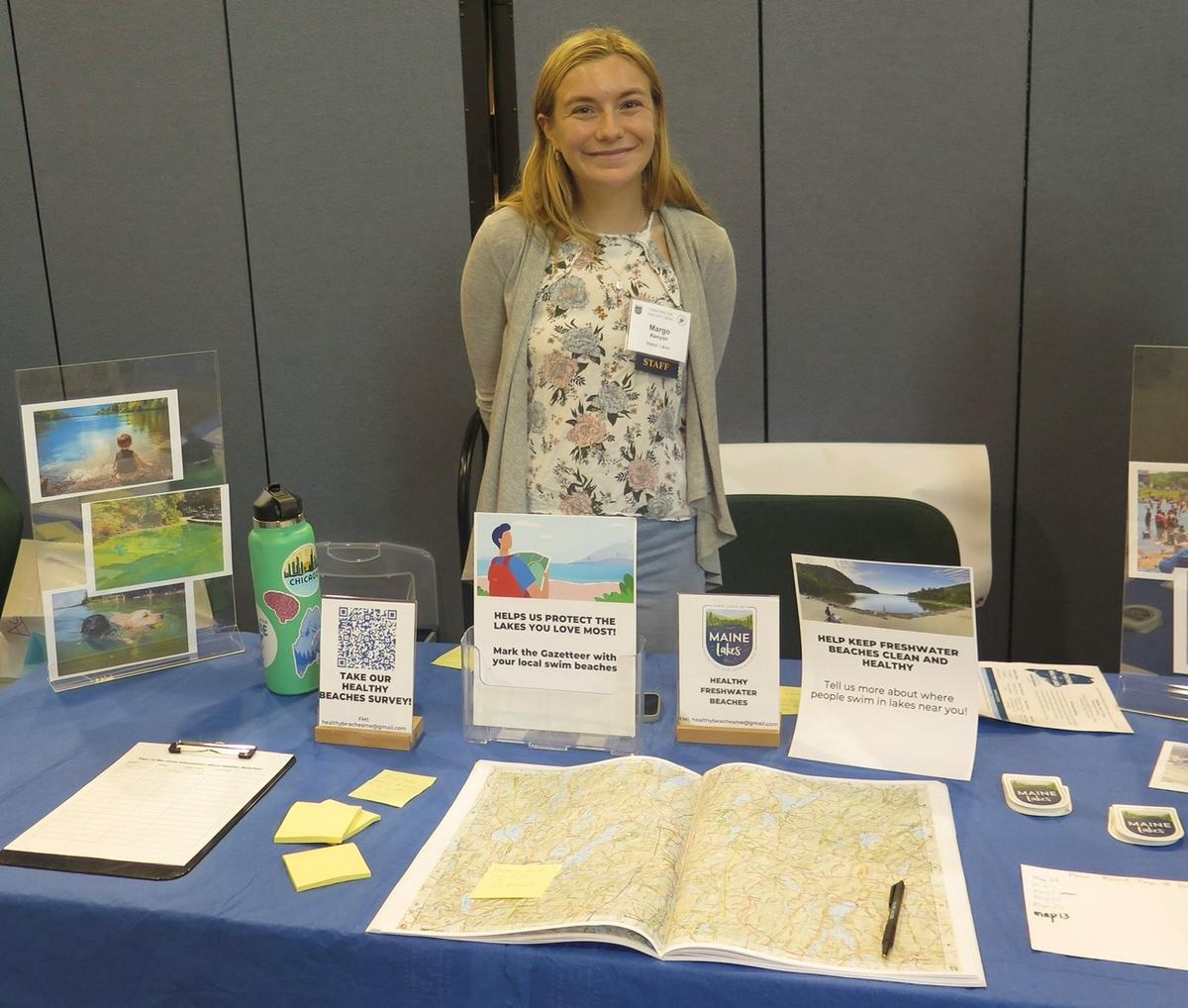 Margo Kenyon, a senior majoring in Environmental Policy at Colby College, worked with Maine Lakes this past summer researching the feasibility of creating a bacteria monitoring program for public freshwater swim locations. Her project aims to determine the need for such a program, how it might operate and be funded, and if it could be modeled after and operate like the DEP's Maine Healthy Beaches program for coastal, saltwater beaches. She is worked with staff at Maine Lakes, Lake Stewards of Maine, and the Department of Environmental Protection, and talking to municipalities, agencies, individuals, and lake association leaders to find where our public beaches are and how they are currently managed. Here are her reflections on the Healthy Beaches Project.
Over the past summer I had the great pleasure of working for Maine Lakes researching the potential for a freshwater beach bacteria monitoring program in collaboration with Lake Stewards of Maine (LSM) and the Maine Department of Environmental Protection (DEP). My research consisted of working closely with lake associations and municipalities across the state, gathering information regarding public freshwater swimming locations, current water monitoring activities, additional local contacts, and suggestions for the future of this potential program. I organized all this information into a freshwater beach database of swimming locations across the state. I also created a database of potential labs that would be capable of running future samples.
A large share of the data gathered was collected via a freshwater beach survey I created, which was distributed at the 2023 Joint Maine Lakes Conference and via ML and LSM newsletters. Over the summer I was also able to accompany pre-existing bacterial monitoring programs within the state of Maine to gain insight about training volunteers, effective citizen science, and data collection. In June I accompanied Meagan Sims from the coastal Maine Healthy Beaches program (MHB), which I envision this program could be closely modeled after, to observe volunteer training in Wells. Meagan also provided suggestions to address the environmental justice component of my research, which consisted of researching the potential use of the EPA's Climate & Economic Justice Screening Tool (CEJST) for this potential program.
In July I also attended an LSM water quality training on Lake Auburn with Tristan Taber, allowing me to spread the word to trainees about the potential program and observe how this program gathered data in comparison to MHB. Finally, I accompanied Anthony DeVecchis of Portland Water District for sample collection on Sebago Lake, to observe firsthand how a freshwater beach bacteria monitoring program works.
Having the opportunity to work closely with each of these programs helped to paint a picture of areas for improvement in future programs, whilst also highlighting the strengths of the various existing strategies of implementation. Currently, as I have returned to school, I am continuing this work part-time to help construct a report on survey findings and the information that was collected this summer. It is my hope that this research will be a useful tool towards achieving a statewide freshwater beach bacteria monitoring program, and can provide useful suggestions for future programs and pilot studies. I would like to thank Susan Gallo and everyone I worked with along the way for their thoughtful guidance and suggestions. This opportunity provided me with valuable experiences working with municipalities, and provided me with a newfound consciousness of all of the considerations that must go into shaping effective environmental policy.
our concerns about maine's fresh water beaches
Why are we concerned about bacteria at freshwater swim areas? Over the past 20 years, Maine has experienced summers with more days with above-average temperatures compared to the previous 100 years. Freshwater temperatures track closely with air temperatures, and thus have also warmed considerably. People seek out local freshwater swimming areas to escape the heat, and more people crowding into freshwater swim locations can increase the presence of disease-causing pathogens in the water.
Warmer water temperatures allow those pathogens to grow and persist in the environment compared to colder water. Sheltered, slow-moving swimming areas may have stagnant water during high-use periods, as water flushing and dilution in lakes and slow-moving rivers is often insufficient at dispersing bacteria during periods of hot, calm weather, which is often when recreation pressure is the greatest.
Testing for the fecal indicator bacteria E. coli, which is harmful to human health but also an indicator of fecal waste and possible disease-causing pathogens from warm blooded organisms, including humans, is a means of protecting public health and adapting to Maine's changing climate.
HELP US WITH THIS FRESHWATER BEACHES PROJECT BY TAKING A SHORT SURVEY!
As part of the project's initial research, an electronic survey has been created to gather information about public freshwater swimming locations, current monitoring activities, and local contacts. Participation in the survey is greatly encouraged and very much appreciated. Any additional questions/comments/suggestions may be left at the end of the survey or sent to Maine Lakes at healthybeachesme@gmail.com.
Thank you